MONOPOLY PLUS
PS4 Price España
(8959)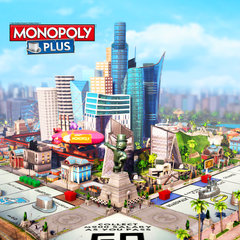 MONOPOLY PLUS Price & Sales History Chart
More Deals & Sales from UBISOFT ENTERTAINMENT SA [12]
Game Description / What's Inside
Para jugar a este juego en PS5, puede que tu sistema tenga que actualizarse a la versión más reciente del software. Aunque este juego es compatible con PS5, es posible que algunas funciones para PS4 no estén disponibles. Consulta PlayStation.com/bc para obtener más información.
¡MONOPOLY para una nueva era! Toda una ciudad 3D en el centro del tablero que vive y evoluciona según juegas. Un mundo en miniatura que reaccionará a medida que progreses y celebrará tus logros. Juega a tu aire: puedes cambiar las reglas y adaptarlas a tu estilo. Usa la Muerte Súbita para partidas rápidas o elige una de las 6 normas disponibles. Gana o pierde, podrás hacer fotos de esos momentos y compartirlos a nivel social. Monopoly PLUS eleva al juego clásico a un nuevo nivel.

El modo online de MONOPOLY PLUS solo está disponible para los que tengan MONOPOLY PLUS.

1-6 jugadores
Jugadores en red: 2-6 - El juego completo requiere ser miembro de PlayStation®Plus para acceder a las partidas multijugador online
2GB mínimo
Función de vibración DUALSHOCK®4
Compatible con juego a distancia
Salida de vídeo HD 720p,1080p
Compatible con PlayStation®Camera

La descarga de este producto está sujeta a la aceptación de los Términos de servicio de PlayStation Network y de nuestros Términos de uso del Software, así como de cualquier condición adicional que se aplique a este producto. Si no desea aceptar estos términos, no descargue este producto. Consulte los Términos de servicio para obtener información adicional importante.
Cuota de licencia única para descargar en múltiples sistemas PlayStation®4. No hace falta iniciar sesión en PlayStation®Network para usarla en su PS4 principal pero sí hay que hacerlo para el uso en otros sistemas PlayStation®4.
Lea los Avisos de salud para obtener información de salud importante antes de usar este producto.
Programas de biblioteca ©Sony Computer Entertainment Inc. propiedad exclusiva de Sony Computer Entertainment Europe. Son aplicables los Términos de uso del Software. Consulta eu.playstation.com/legal para ver todos los derechos de uso

MONOPOLY is a trademark of Hasbro and is used with permission. © 2014 Hasbro. All Rights Reserved. Licensed by Hasbro to Ubisoft Entertainment. Ubisoft and the Ubisoft logo are trademarks of Ubisoft Entertainment in the U.S. and/or other countries. Games software © 2014 Ubisoft Entertainment. All Rights Reserved.
Information taken from the official PlayStation Store website, all rights reserved.